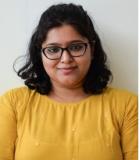 , World Resources Institute, India
Profile / Bio:
Ananya Chakraborty, Ph.D., is a Senior Research Analyst with the Climate Resilience Practice program at the World Resources Institute (WRI), India. Her research focuses on gender, inclusion, and human development for addressing pressing issues of our times such as climate change, food security, and migration. Her current research looks at climate smart agriculture (CSA) from a gendered perspective to find collaborative solutions that can foster equity and inclusion of women farmers across developing countries to build resilience and adapt to the impacts of climate change on agriculture.
Prior to joining WRI, Ananya has worked with the International Crops Research Institute for the Semi-Arid Tropics (ICRISAT), Patancheru, and Tata Institute of Social Sciences (TISS), Mumbai, in various research and leadership capacities. She is an alumna of the Managing Global Governance (MGG) Academy organized by the German Institute for Development and Sustainability (IDOS) in 2019.