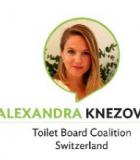 , Toilet Board Coalition, Switzerland Venu Gupta
Profile / Bio:
Alexandra is the Director of Operations at the Toilet Board Coalition, where she leads program and content development to scale up private sector engagement that is aligned with Sustainable Development Goal 6.2 – sustainable sanitation for everyone, everywhere. This entails covering communications, strategy development, and events management, working closely with a team of colleagues around the world.
Alexandra's expertise is in project management, coordination, and creative development with over a decade's work in NGOs, small and medium enterprises, and multi-stakeholder platforms. She currently sits on the boards of Sanitation and Water for All, WASH4Work, Human Right 2 Water, and the Global Menstrual Collective.