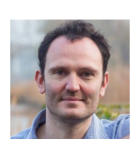 Senior Climate and Disaster Risk Management Specialist
Profile / Bio:
Alessio Giardino is a climate adaptation and disaster risk management specialist with over 18 years' experience of professional experience in the water sector, including both specialized consultancy and research. His current focus at ADB is on the development and implementation of innovative methodologies and techniques to enhance climate resilience in water projects.
Before joining ADB, Alessio worked at Deltares, providing support as expert adviser, research programme manager, and team leader in assignments for the World Bank, ADB, IDB and several national governments in the Pacific, Asia, Africa, Latin America and the Caribbean. Alessio has a specific interest, supported by a solid project experience and publication track record, in coastal adaptation projects and research in Small Island Development States (SIDS) countries, to enhance resilience at some of the smallest and most vulnerable countries. Alessio holds a MSc in Environmental Engineering (cum laude) from the University of Turin in Italy, and a PhD in Coastal Engineering from KULeuven in Belgium. He also served as a reviewer for IPCC and as guest lecturer in MSc programmes and international conferences. Alessio is (co)author of dozens of journal publications on climate adaptation and disaster risk management.