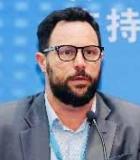 Business Development Director
Profile / Bio:
Alan Kneisz is Business Development Director at Hydrogenics Corporation, a global provider of advanced hydrogen fuel cell and electrolysis solutions.
In his role, Alan has been at the forefront of Hydrogen technology deployments by developing megawatt fuel cell power systems, renewable energy applications, energy storage, hydrogen fueling, back-up power, and hydrogen transport solutions. This includes the largest fuel cell bus fleets in China, as well as providing technical assistance for better understanding of planning for a hydrogen economy with the government, OEMs, NGOs, and other private institutions globally.
Alan has extensive experience implementing green technologies into practical applications throughout the Asia-Pacific region and Australia with private and government institutions and has become a thought leader in promoting the hydrogen economy across the region, speaking at close to 10 conferences every year to explain the advantages of the hydrogen economy.
-----
Kneisz先生是氢能公司的业务开发总监,氢能公司是一家先进的氢燃料电池和电解解决方案的全球供应商。
Kneisz先生一直是氢技术利用的领先者,致力于开发兆瓦级燃料电池动力系统、可再生能源应用、储能、氢燃料、备用电源和 氢输送解决方案,其中包括中国最大的燃料电池公交系统,以及向全球的政府、原始设备制造商、非政府组织和其他私营机构 宣传氢经济规划。
Kneisz先生拥有在亚太地区和澳洲的私营和政府机构中实行绿色技术应用的丰富经验,并已成为推动整个地区氢经济发展的思 想领袖,每年在近10次会议上宣传氢经济的优势。
-----
Алан Кнайс - директор по развитию бизнеса в компании «Hydrogenics Corporation», котоаря является глобальным поставщиком передовых решений для водородных топливных элементов и электролиза.
Занимая эту должность, Алан стоял на передовых позициях внедрения водородных технологий, разрабатывая энергетические системы на топливных элементах «Megawatt», применения возобновляемых источников энергии, хранения энергии, заправки водородом, резервного питания и водородного транспорта. Эти инициативы включают в себя самый большой парк автобусов на топливных элементах в Китае, а также помогают правительственным органам, производителям оборудования, НПО и другим частным организациям лучше понять процессы по планированию водородной экономики.
Алан обладает обширным опытом внедрения экологически чистых технологий в практических решениях частных и государственных учреждений Азиатско-Тихоокеанского региона и Австралии; стал идейным лидером в продвижении водородной экономики во всем регионе, выступая на десятках конференций в год и рассказывая о преимуществах водородной экономики
LinkedIn:
https://www.linkedin.com/in/alankneisz/