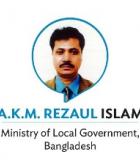 , Ministry of Local Government, Bangladesh
Profile / Bio:
Rezaul is the Project Director for the Third Urban Governance and Infrastructure Improvement (Sector) Project (UGIIP-3) in Bangladesh, which is financed by the Asian Development Bank. He has been involved in urban development executive roles for more than 16 years, covering procurement of works, goods and services, construction management, planning, monitoring and evaluation, and financial management, in behalf of 175 municipalities in Bangladesh.
Along with infrastructure development for solid waste management, fecal sludge management, and sanitation works, Rezaul has also worked on fund management, gender development, social and environmental safeguards, urban governance improvement, and capacity development activities for municipalities. Previously, he applied his technical and managerial expertise as a construction engineer, leading a team of more than 30 national engineers, for a post-tsunami reconstruction project funded by UNICEF in Aceh, Indonesia. He also worked with the Danish International Development Agency, where he was responsible for developing computerized advanced simulation models to evaluate road network construction, maintenance, and management decisions.