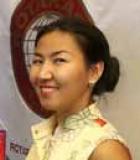 Climate Change and Project Management Consultant
Profile / Bio:
Aigerim Akiltayeva is currently engaged as a Climate Change and Project Management Specialist with ADB under the regional technical assistance (RETA), "Promoting Low-Carbon Development in CAREC Program Cities". She has completed her bachelor's degree in Energy Engineering with first class diploma at the University of Leeds in the United Kingdom. Ms. Akiltayeva successfully designed a group project, "Hydrogen Production via Steam Reforming of Natural Gas" at the University of Leeds. She also conducted various laboratory experiments in solar energy, filtration, natural gas, and other climate change and energy engineering related matters. Her design projects include critical review of Kazakhstan's policies for meeting the Kyoto Agreement, efficient plastic recycling, wind characteristics of electricity production in rural area and solar production. Aigerim previously worked at Turkuaz Machinery Kazakhstan for Rolls Royce Power systems MTU-engines and natural gas generators brand. She has extensive experience working with international organizations, such as UNDP, SE4ALL, and IRENA during the International Exhibition Astana EXPO-2017 in Kazakhstan, where she helped organize their thematic pavilions under the exhibition theme, "Future Energy". While working for ADB, Aigerim works extensively on climate change and renewable energy potential projects in Kazakhstan. She is currently involved in developing the Strategy of Low Carbon Development-2050 for Nur-Sultan, as well as assisting in Clean Technology Fund projects being implemented in the city. She is also a member of public speaking and leadership club, Toastmasters International, where she achieved the highest recognition award Distinguished Toastmaster.
-----
目前,Aigerim Akiltayeva女士担任气候变化和项目管理专家,负责协调亚洲开发银行的区域技术援助项目"促进中亚区域经 济合作计划城市项目城市的低碳发展"。 Akiltaeva女士在英国利兹大学获得了能源工程学士学位和一等文凭。她在利兹大学 成功设计了"天然气蒸汽重整制氢"小组项目。她还在太阳能,过滤,天然气和其他气候变化和能源问题领域进行了各种实验 室实验。她的设计项目包括对哈萨克斯坦履行京都议定书的政策进行严格审查,高效塑料回收,农村地区风能发电情况和太阳 能生产项目。Aigerim曾在Turkuaz Machinery Kazakhstan工作,负责劳斯莱斯动力系统MTU发动机和一个天然气发电机品牌。 她拥有丰富的与国际组织合作经验,在参加于哈萨克斯坦阿斯塔纳举办的2017年世博会国际展览会期间,与包括联合国开发计 划署,SE4ALL和IRENA在内的国际组织合作,并帮助组织了主题馆"未来的能源"。在亚洲开发银行,Aigerim积极致力于哈萨 克斯坦的气候变化问题和可再生能源项目。她还是哈萨克斯坦联合国可持续发展"星球"工作组的成员,她在那里促进阿斯塔 纳的低碳发展;同时,她也是Toastmasters国际演讲和领导力俱乐部的成员,在那里她获得了最高奖项,"杰出的主持人"。
-----
В настоящее время г-жа Айгерим Акилтаева работает Специалистом по изменению климата и координирует проект Азиатского Банка Развития Региональной Технической Помощи «Содействие низкоуглеродного развития в городах Программы ЦАРЭС». Она закончила Университет Лидс в Великобритании с красным дипломом по энергетике. Г-жа Акилтаева успешно разработала групповой проект «Производство водорода путем парового реформирования природного газа» в Университете Лидс. Она также провела различные лабораторные эксперименты в области солнечной энергии, фильтрации, природного газа и других вопросов изменения климата и энергетики. Она подготовила следующие доклады: «Критический Обзор Политики Казахстана в отношении выполнения Киотского соглашения», «Эффективная Переработка Пластмассы, «Производство Электроэнергии с помощью Ветровой Энергии в сельской местности» и «Проект по Производству Солнечной Энергии». Айгерим ранее работала в Туркуаз Машинери Казахстан для силовых систем Роллс-Ройс и MTU-двигателей, и генераторов природного газа. Имеет большой опыт работы с международными организациями, включая ПРООН, SE4ALL и IRENA во время Международной специализированной выставки «ЭКСПО-2017» в г. Нур-Султан Казахстан, где она организовывала тематические павильоны «Энергия Будущего». В АБР Айгерим активно работает над проектами в сфере изменения климата и возобновляемых источников энергии в Казахстане. Она на данный момент вовлечена в работу по разработке Стратегии низкоуглеродного развития – 2050 для Нур-Султана, также по реализации проектов Фонда Чистых Технологий в городе. Она также является членом клуба ораторства и лидерства Международный Тоастмастерс, где она добилась наивысшей награды «Выдающийся Тоастмастерс».