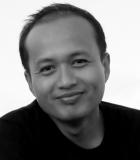 Executive Director & Co-Founder
Profile / Bio:
Rifai has worked with co-founder John Taylor since initiating the Solo Kota Kita project in 2009; he manages the office in Solo, overseeing and getting involved in all aspects of projects, from facilitating workshops to networking to overall management.
Rifai received his Masters degree from the Development Planning Unit, University of College, London. He has worked on urban issues with UN HABITAT Indonesia, UNDP and the ILO.