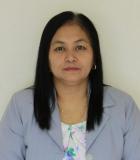 Senior Program Specialist/Head, Air and Atmospheric Pollution Cluster
, Regional Resource Center for Asia and the Pacific, Asian Institute of Technology
Profile / Bio:
Ms. Adelaida Roman is a Senior Programme Specialist and the Head of Air and Atmospheric Pollution Cluster at the Regional Resource Centre for Asia and the Pacific, Asian Institute of Technology. She coordinates the activities of the "Malé Declaration on Control and Prevention of Air Pollution and Its Likely Transboundary Effects for South Asia", an intergovernmental network dealing with transboundary air pollution in eight countries of South Asia, as well as the Project "Sustainable Low Emissions Transport". She previously worked as Programme Officer (2002-2006) and Coordinator (2007-2011) of Acid Deposition Monitoring Network in East Asia Secretariat.
Ms. Roman specializes in environmental management with a focus on acid deposition, air pollution, and climate change. She worked for the Environmental Management Bureau, Department of Environment and Natural Resources (Philippines), and was part of the Technical Secretariat for the Philippines Inter-Agency Committee on Climate Change in EMB.
Roman obtained her Master of Science degree in Environmental Engineering from the University of the Philippines.