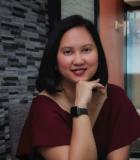 Internal Audit professional
, Institute of Internal Auditors - Philippines
Profile / Bio:
Abigail has more than 16 years of in-depth experience in internal auditing; from setting up an internal audit function, to internal audit outsourcing and co-sourcing, to conducting external quality assessment reviews of internal audit functions of clients.
She is active in professional organizations such as The Institute of Internal Auditors Philippines (IIA-Philippines) and the Association of Certified Fraud Examiners Philippines (ACFE-Phils). She was the 2020 Chairman of the Board of Trustees and President of the IIA-Philippines.
On top of her regular duties as a member of the Board of Trustees, she had chaired three national conferences, two with IIAP and one with ACFE-Phils. As chair of these conventions, she was overall responsible for the topics, speakers, venue, invitation to delegates, and other logistics matters. The most recent national conference she chaired was the IIAP 2017 national conference which was held last October 2017 in Puerto Princesa, Palawan.
She is a Certified Internal Auditor, Certified Fraud Examiner, and Certified Public Accountant. She also holds a Certification in Risk Management Assurance.