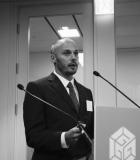 Profile / Bio:
Aaron is a creative and accomplished Environmental Consultant/Specialist, an experienced Project Manager, and an award-winning entrepreneur.
Broadly, his skills and experience derived from working across many projects spanning the U.K, Papua New Guinea, Cambodia, Uganda, Brazil, Swaziland and Tanzania, although he now manages projects in approximately 40 countries. With over 14 years of experience in delivering environmental and construction projects, varying in scale and complexity, he has worked alongside multi-agency partners (private, government, and NGOs) to successfully deliver program/project objectives by integrating project management skills, inter-discipline coordination, and stakeholder engagement & consultation to achieve clients' deliverables and targets.
With a strong background in Environmental Impact Assessment (EIA), Aaron has managed a variety of complex projects spanning multiple sectors both in the U.K and abroad. Aaron has been involved in designing, developing, and managing environmental assessments, utilizing his knowledge of national and international standards, safeguards, and regulations (i.e., ADB, JICA IFC, World Bank). As a Construction Project Manager he also worked alongside engineers and contractors through entire project life cycles from bidding, to contract development, to project inception and construction.
Aaron's enthusiasm for environmental solutions, academic and project background provided a solid platform to develop a social-enterprise start-up to reduce design and install Low Impact Developments (LIDs) to reduce flooding and storm-water issues that plague Phnom Penh, Cambodia.
Most recently, Aaron was provided an opportunity to combine his skills and experience at the Asian Development Bank (ADB), where his role as an Environmental Specialist primarily functions to ensure environmental safeguard compliance across 100+ projects annually in Asia and the Pacific.