Events
Book Launch on Creative Economy 2030: Imagining and Delivering a Robust, Creative, Inclusive, and Sustainable Recovery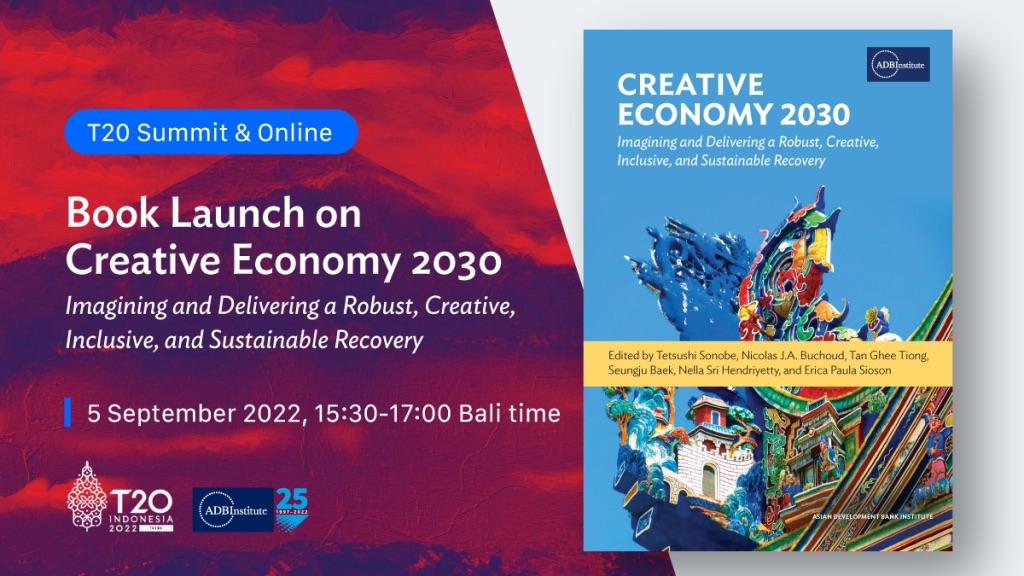 Before the COVID-19 crisis, the creative economy, broadly encompassing knowledge-based economic activities underpinning the creative and cultural sectors and bridging art, culture, technology, and business, was on pace to account for 10% of the global GDP by 2030. However, micro, small and medium-sized enterprises (MSMEs) and the informal workers that drive the creative economy have been hard hit by the pandemic. The revival of the creative economy is critical in realizing an inclusive recovery that boosts MSMEs and employment for women, youth, and other vulnerable groups in Asia and the Pacific's rural and urban areas.
An Asian Development Bank Institute (ADBI) cohosted a side event of the 2022 Think20 (T20) Summit and simultaneously opened it to the public online, this launch featured insights from the new ADBI Press book Creative Economy 2030. The authors discussed the book's peer-reviewed, independent insights providing the Group of 20 (G20) and global partners a timely roadmap for revitalizing the creative economy, facilitated by the digital marketplace.
Drawing upon cross-disciplinary institutional and community perspectives and original case studies, the authors explained the creative economy's role in delivering a robust and inclusive post-pandemic recovery in developing Asia and the Pacific. They also described how the post-COVID-19 revival of the creative economy could advance the realization of the United Nation's 2030 Sustainable Development Goals (SDGs) and offer guidance for possible global actions.
The discussion was followed by an audience question and answer session about the creative economy and issues explored in the book, which was co-produced by ADBI, the Association of Southeast Asian Nations (ASEAN) Secretariat, the University of Indonesia Institute for Economic and Social Research, and the British Council.
See more about this ADBI event here.
Program and Learning Materials:
| Date | Session / Activity | Presentation Material | Speaker(s) |
| --- | --- | --- | --- |
| 05 Sep 2022 | | You can download the book and more about this event here. | |