Events
ADBI Featured Speaker Webinar: United States Patent and Trademark Office's Peter Fowler on IP Protection and Enforcement for Trade, Competition, and Innovation in Asia and the Pacific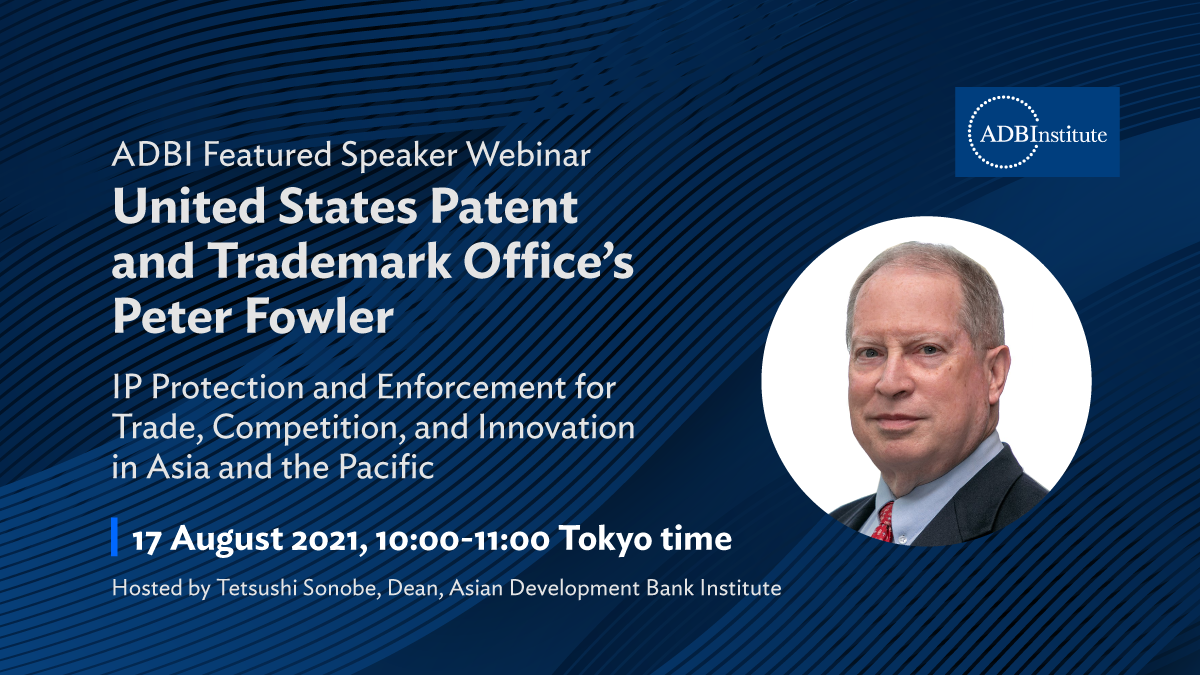 This ADBI Featured Speaker Webinar presented United States Patent and Trademark Office (USPTO) Senior Counsel Peter Fowler, who discussed the increasing importance of intellectual property (IP) protection and enforcement in Asia and the Pacific given rising e-commerce and digital trade, competition for foreign direct investment in advanced technologies, and focus on green and sustainable growth.
He described USPTO partnership with the region's national intellectual property offices in building intellectual property protection and enforcement. He also explained how an intellectual property-friendly economy could facilitate job creation and innovation in Asia and the Pacific, and the need for greater capacity building in related areas such as technology transfer and commercialization.
The discussion was followed by an audience question and answer session.
About the Speaker
Peter Fowler is a Senior Counsel for Enforcement in the Office of Policy and International Affairs at the United States Patent and Trademark Office. Other roles during his over 20 years at USPTO have included serving as Regional Intellectual Property Attaché for Southeast Asia, working on a range of intellectual property enforcement issues, and training and capacity building programs.
Previously, he also served as an advisor to the Office of the United States Trade Representative on a number of trade agreement negotiations. He received his JD from Golden Gate University School of Law.
See more about this ADBI event.
Program and Learning Materials: