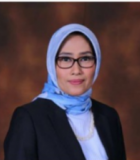 , Electricity Ministry of Energy and Mineral Resources Indonesia
Profile / Bio:
Ibu Sripeni Inten Cahyani (ibu Inten) has 27-year experience in electricity and power generation in Indonesia. Her professional area and interest cover asset management, risk management, corporate transformation, and human capital program. She currently serves as Expert Staff on Electrification to the Minister of Energy & Mineral Resources. Ibu Inten had been a member of Board of Directors in various state-owned enterprises in Indonesia, and her previous posts include: (i) Director of Procurement Strategic 1 of PT PLN (Persero) from 2019 to 2020; Chief Executive Officer PT Indonesia Power (PLN Subsidiary) from 2016-2019; and Chief of Financial Officer PT Indonesia Power (PLN Subsidiary) from 2013-2016.
Ibu Inten earned her Doctorate in Economics (research on Strategic Management) from Trisakti University, Jakarta in 2019, and she obtained her Magister Management in the PPM Jakarta in 2001. She graduated in 1992 from the University of Diponegoro, Semarang, majoring in Chemical Engineering.