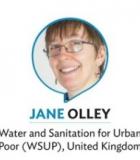 , Water and Sanitation for Urban Poor (WSUP), United Kingdom
Profile / Bio:
Jane, a Technical Manager with WSUP, is a sanitation specialist and chemical engineer with over 26 years of experience working on sanitation and waste management projects in Africa, Asia, and Latin America. 
Since 2016, she has worked on citywide inclusive sanitation for six cities with populations of between 1 and 2 million, including ongoing work as part of the ADB citywide inclusive sanitation (CWIS) team for Phnom Penh in Cambodia. Her work has included strategic planning, policy and regulation development, business planning, implementation planning, and institutional development. Drawing on her experience partnering with municipalities, utilities, regulators and small and medium enterprises, Jane brings a practical perspective to how cities can progress to sustainable and scalable sanitation improvement. Much of her work has included building stakeholder understanding and commitment to new ways of delivering sanitation that is designed to achieve scale and financial viability.