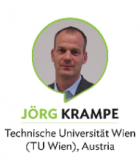 , Technische Universität Wien (TU Wien), Austria
Profile / Bio:
Jörg is a full-time professor for water quality at TU Wien (Technical University of Vienna), where he leads a 40-strong research group for water quality management. His career covers 25 years of experience in biological wastewater treatment, aeration technology, membrane technology, and energy efficiency. He has a wide range of practical experience with different types of wastewater treatment plants (WWTPs), focused mainly on activated sludge plants and trickling filters.
Jörg's background also includes operator training in Austria and Germany. He has presented special short courses for Algerian, Chinese, and Turkish WWTP operators. In addition, he has carried out extensive concept design work and process performance reviews as an independent consultant, aimed at optimizing activated sludge systems. Previously, he was a Principal Wastewater Treatment Engineer at South Australia Water, where he focused on the process design and optimization of WWTPs at a strategic level.
His career also includes teaching and research at the University of Stuttgart (Germany) and at the University of Adelaide (Australia) where he served as an adjunct associate professor.